The keynote presentations and part of the workshops will take place in specific locations on the island of Amager, which houses a third of Copenhagen's population. Amager offers beaches, a former industrial harbour, Nordic food culture (Noma), recreational harbour baths, huge shopping malls, cultural activism on Prag's Boulevard, social housing, allotments, the Freetown Christiania, the Danish Broadcasting Corporation, Copenhagen Airport Kastrup, nature and wildlife resorts, working class culture, Riviera-like villas, the newly constructed and often criticized neighbourhood Ørestaden featuring star architects such as BIG (the VM Mountain, 8-tallet) and Jean Nouvel.
Here are the sites chosen for the site-specific keynote lectures and performances:
KASTRUP SØBAD
Kastrup Søbad is a harbour bath at the west coast of Amager. Situated off-shore in the Øresund Sound, it has great views of the Saltholm island, Øresundsbroen and Sweden. Kastrup Søbad is shaped like a circle with an outer screen, providing a pleasant shelter for the swimmers – and performers alike.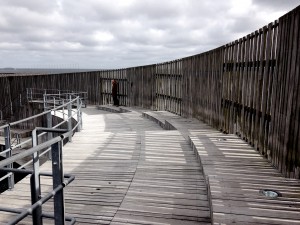 Kastrup Søbad, designed by the Swedish Architects Whyte 2004-2005, is situated in Kastrup Strandpark with the recreational larger urban beach area Amager Strandpark to the north and the National Aquarium Denmark to the south. Amager Strandpark was founded in 1934, but in 2005 a 2 km long artificial island was added creating 5 km of beaches, a lagoon for surfing, swimming and kayaking, paths for cycling and running, and promenades for strolling.
The beach area is part of the urban development of Amager. The City of Copenhagen has been working on the possibility of creating a wider beach park with a greater depth of water offshore ever since the mid-'70s. In 1988, thanks to local efforts, a proposal to extend the beach park, – the so-called Riviera Plan was realized.
In compliance with other contemporary, urban trends such as sustainability, recreational life and human scaled architecture Amager Strandpark was designed as a recreational area in the city. The Amager Strandpark has resulted in an increase in living standards, but also rising housing investment and gentrification of Amager West.
URBANPLANEN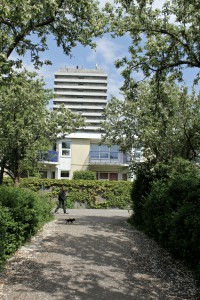 Urbanplanen is Copenhagen's largest car-free neighbourhood. It has 2500 homes and around 5400 citizens. It was built as a residential area between 1966 and 1997. Today the area has an old farmhouse, cozy kitchen gardens, new courtyards, playgrounds, a library, a church and an activity centre.
The buildings consist of social housing in several five-storey housing blocks and two eight-storey apartment buildings, as well as smaller row houses.
The decision to construct Urbanplanen came from then-mayor Urban Hansen (1908-1986). He was elected in 1962 on a pledge to build 25,000 more housing units in the municipality. The goal was to address the increasing lack of public housing.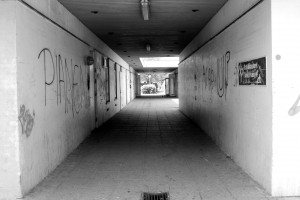 As with most public housing of that era, there was little diversity in tenants, and the buildings were left to decay. When the Ørestad plan was devised in the 90's, Urbanplanen was thrust into the spotlight. Decay, ghettoization and crime in the area have recently been discussed. Especially Solvangcentret (a small shopping mall) has been a contested site. Despite many efforts to restore the place, among others cultural projects such as SOUP, Solvangcentret will be demolished in June 2015. The fence around the demolition site will serve as a screen for local art and culture production.
KØBENHAVNS UNIVERSITET AND ØRESTAD NORTH
Københavns Universitet Amager, KUA (University of Copenhagen) is in Ørestad North neighboring Jean Nouvel's concert hall, DR – the Danish Broadcasting Coorporation, IT-Universitetet (IT University of Copenhagsen) and Tietgen Kollegiet – a student residence.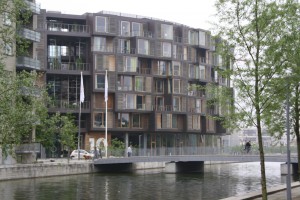 All these institutions establish a new urban centre for culture, media and communication technology on Amager and was part of the Ørestaden urban development in the 90'es. Ørestaden North has Københavns Universitet Amager as its front figure. The architectural axis ends in Ørestaden South with the housing complex 8-tallet by world known Bjarke Ingels Group (BIG). In-between we find VM-husene and VM-Bjerget, also by BIG. The Ørestaden axis is spatially and visually present, with the Metro and a canal as infrastructure and recreational space.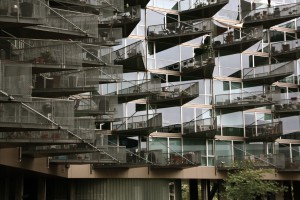 The area has been awarded worldwide for its architecture, but has also, from an urban planning perspective, been heavily criticized for repeating modernist planning failures – as for instance known from the development of Urbanplanen.
REFSHALEØEN
Refshaleøen is the old industrial site for the wharf Burmeister and Wain producing diesel motors. The wharf was active from the 1859 to the closing of the industry in 1996. In the last 20 years, the Refshaleøen has changed radically – from industrial labour to immaterial labour. Today we find an event island where industrial workers are replaced by creative people, artists, musicians, food industries etc., and is the place where urban festivals such as Distortion, Copenhell and Uhørt takes place during the summer.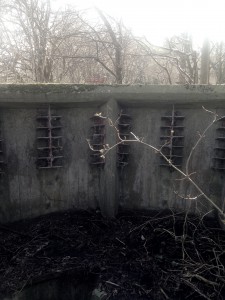 At the northern tip of Refshaleøen, you will find Teaterøen (The Theatre Island). Set at the outskirts of urban culture, Teaterøen has a strong focus on avant-garde theatre and performance art.
Refshaleøen consists of borders and fluid states in between high and popular culture, the autonomous law of squatters and public law, alternative economies and event economy
CHRISTIANIA
On the way to Refhaleøen you will pass another autonomous area – the squatted freetown Christiania situated in the old military barracks of Christianshavn. Christiania covers an area of more than 85 acres and houses almost one thousand inhabitants, but every year, more than a million people visit the Freetown. Some of them use Christiania almost every day, others pay a quick visit to the village in the middle of Copenhagen. Christiania is thus one of the greatest tourist attractions in Copenhagen, and abroad it is a well-known "brand" for the progressive and liberated Danish lifestyle. Many Danish businesses and organizations also use Christiania as a show place for their foreign friends and guests.
AMAGER AUDIO GUIDE
Six master students from Performance-design, Roskilde University, have designed this audio guide especially for the participants at Fluid Sounds. Take an auditory tour to Amager – from Dragør in the south to Amager Fælled in the West. Listen to Amager Audio Guide in Soundcloud here.