The site-specific program Thursday started with Holger Schulzes keynote presentation, Idiosyncracy as Method. Kastrup Søbad, or The Snail, served as the scenic venue.
Quote from the lecture:
"In any research situation, within any more specific context we do operate as researchers in an expanded continuum of epistemic activities. This epistemic continuum is not something alien or far away. It is actually present in everyday life."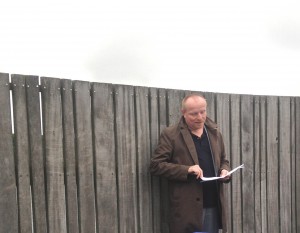 Next stop was Urbanplanen, where Brandon Labelle constructed a poor acoustics in the deconstructed landscape of former modernist welfare ideals.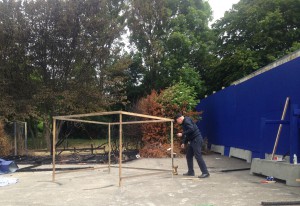 From the construction site, we went into the urban garden, Urbanplanten, where local residents grow vegetables and sustain the community in the green environment of the garden. Jeremy Woodruffs sound installation, Green Interactive Biofeedback environment, was installed in the children's playhouses. Finally, the composer did a small music performance in the environment.
Lunch was served in the garden and some of the conference participants were introduces to Danish "Snobrød" while others started doing recordings for their audio presentation.
After a brilliant keynote panel on Telematic Encounters at Copenhagen University, we went to the evening reception at the Teaterøen, where snails were welcoming the guests. The evening closed with Heaven's performance installation music4giants.